Best for Comprehensive Service Plans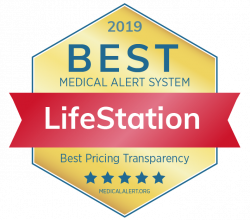 LifeStation is a U.S.-based provider of medical alert systems with many accolades, including numerous rankings on top 10 best medical alert provider lists. The company is Consumer Affairs Accredited, and operates its own UL-listed monitoring center.
LifeStation's devices are available with a Standard, Select, or Supreme service package. The Standard package covers emergency monitoring service, the Select plan includes either automatic fall detection or a device protection plan, and the comprehensive Supreme package includes both fall detection and device detection, as well as free accessories. The bundled packages make it easy for customers to access all of the services they need under one monthly bill. The package options are the same for each device and are all-inclusive, making it easy for consumers to understand their options and exactly what they're getting with their chosen service plan.
Who LifeStation Is Best For
Caregivers of Forgetful Seniors
LifeStation's Mobile LTE device includes the Find My Loved One feature. The tool allows caregivers and other preferred contacts to receive on-demand, real-time location data for their loved one. To access the feature, contacts simply send a text message to a designated number saying "find" and their loved one's name, and they will receive a link to a map pinpointing the location of the device. Find My Loved One is available to preferred contacts of all Mobile LTE users at no extra cost and can be very useful for caregivers who want to stay in the know about their loved one's whereabouts.
Seniors Who Want Device Protection
Customers with Select and Supreme service packages can choose to include a device protection plan with their service. The protection plan covers lost, damaged, stolen, or broken devices. It can be especially useful for clumsy seniors who may drop their device or spill a beverage on it, or those who are forgetful and may misplace the device. The protection package provides insurance against the cost of having to pay for an entirely new device.
Seniors Who Own Amazon Smart Devices
LifeStation recently announced its integration with Amazon Alexa, enabling seniors and their families to utilize their Alexa smart home devices to access key medical alert features. This allows them to use their Amazon devices to perform important tasks like viewing and updating critical account information. Plus, caregivers can also now use Alexa to locate their loved one's device in real-time, which can be especially useful for caregivers of seniors with memory impairment who may wander. Those who do not have an Amazon Alexa-enabled device may be able to use these features on their smartphones with the Alexa app.
Plans and Starting Costs
All LifeStation devices are available with a Standard, Select, or Supreme service package. The packages range in price from $21.95 for a Standard plan with the In-Home Traditional device, to $47.95 for the most comprehensive Supreme package for the Mobile LTE device. All plans are paid for on a month-to-month basis.
Starting Costs
The only LifeStation customers required to pay a starting fee are those who choose the Standard package for the Mobile LTE device. This device plan comes with a $50 activation fee. No other plan for any other devices carry any one-time fees, and shipping is included with all plans.
There are no long-term contracts required and users may cancel their service at any time. Additionally, all new customers have a 30 day trial period during which they can return their device for a full refund, minus the cost of return shipping.
Device Prices and Features
In-Home Traditional
Device Features
The In-Home Traditional is a basic in-home system. It requires a working landline connection. Its base station has a range of 1,000 feet and a 48-hour backup battery, and the included wearable help button is showerproof and waterproof. The help button weighs less than 0.5 ounces and may be worn as a pendant or wristband. Although the base station must be plugged in, the help pendant has a long-lasting battery that never needs to be charged.
Pricing
The Standard plan for the In-Home Traditional costs $21.95 a month. The Select plan costs $5 more at $26.95, and the Supreme package is an additional $10 a month at $36.95.
In-Home Plus
Device Features
This system includes a cellular connection, making it an option for those who want in-home protection but do not have a landline. Its base station has a range of 650 feet and a 48-hour backup battery, and it includes the same lightweight, waterproof wearable help button as the In-Home Traditional system.
Pricing
In-Home Plus costs $30.95 with a Standard plan. This includes the cost of a cellular service for the device. The Select plan, which includes either fall detection or device protection, costs $35.95 a month, and the comprehensive Supreme package costs $45.95 a month.
Mobile LTE
Device Features
This is an all-in-one portable device, so users only need to have one piece of equipment on them in order to be protected on-the-go. In addition to cellular service, the device comes equipped with location tracking that uses both GPS and WiFi signals. Caregivers can access the user's location on-demand with the free Find My Loved One feature. The lightweight device is waterproof and shower-proof and has a battery life of up to 5 days.
Pricing
Mobile LTE costs $37.95 a month with a Standard plan. Those who choose the Standard plan must also pay a $50 activation fee. The Select plan costs $42.95 a month, and the Supreme package costs an additional $5 a month at $47.95. Customers who choose either the Select or Supreme plan will have the $50 activation fee waived.
| | | | |
| --- | --- | --- | --- |
| | In-Home Traditional | In-Home Plus | Mobile LTE |
| Monthly Cost | $21.95 | $30.95 | $37.95 |
| One-time Fees | N/A | N/A | $50 |
| Type of Device | In-home system | In-home system | Mobile system |
| Connection | Landline | Cellular | Cellular |
| Battery Life | 48-hour backup | 48-hour backup | 5 days |
| Water Resistant | Yes | Yes | Yes |
| Shower-proof | Yes | Yes | Yes |
| Range | 500 feet | 600 feet | N/A |
| Fall Detection | $10 a month | $5 a month | $5 a month |
Optional Devices
LifeStation customers have the option of leasing add-on devices from the company. Optional device options include:
Wall-mounted personal help buttons, which provide extra protection in the home. These buttons cost an additional $2.49 a month and are compatible with either in-home system.
Customers may lease a lockbox from LifeStation for $2.99, and store a spare key in the lockbox for use during emergencies. LifeStation's emergency operators keep the user's lockbox code on file.
Users of either in-home device may add an additional personal help button to their service plan for $3.99 a month. The extra button may be used by the initial user as a backup, or by a second person who lives in the same home. There is no extra fee for monitoring a second user.
The Mobile LTE device is compatible with Amazon Alexa devices, allowing users to access key account information via their Amazon home device.
Monitoring
LifeStation owns and operates its own U.S.-based, UL-listed monitoring centers, located in New Jersey and Texas. All LifeStation operators are certified by the Central Station Alarm Association. According to the company's website, the average response time for an emergency call is 20 seconds.