Best for Forgetful Seniors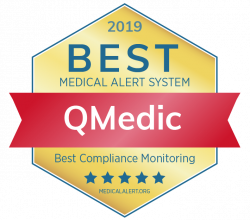 QMedic was founded by a team of scientists from the Massachusetts Institute of Technology. The group uses their extensive knowledge in the sciences to inform their range of devices. The company currently offers two in-home device options and one mobile device.
QMedic devices come equipped with several additional features, including a caregiver dashboard for family members of users and activity tracking. The most unique, and arguably most useful of these features, is compliance monitoring. Compliance monitoring tracks whether or not users are actually wearing the device. This is extremely important to ensure that the user is protected, as a medical alert device only works if the senior wears it!
While some seniors may be resistant to the idea of wearing a device, others may simply forget to wear their device, especially soon after receiving it. Compliance tracking helps in both situations, as caregivers can know right away if they need to remind their loved one to wear their device. QMedic is currently the only medical alert company that offers compliance monitoring. Even better, it's included with all customers' medical alert devices free of cost.
Who QMedic Is Best For
Caregivers and Family Members of Seniors
Compliance monitoring gives caregivers peace of mind about one of the most important factors in the efficacy of medical alert monitoring- whether or not the user is actually wearing the device. If caregivers see via compliance monitoring that the user is not wearing their device, they can take the necessary action to make sure their loved one gets the protection they need. Both compliance monitoring and access to the Caregiver Dashboard are included at no extra cost for all QMedic users.
Seniors Who Are Aging in Place
More and more seniors are choosing to age in place rather than move to a residential care community as they age. QMedic's devices are designed to help seniors age in place safely and help families coordinate their loved one's in-home care. In addition to standard emergency monitoring, QMedic devices come equipped with several smart-technology features. One, activity monitoring, learns wearers' behavioral patterns, so it can alert caregivers when abnormal behavior is detected, such as the wearer not getting out of bed when they should have. This enables proactive caregiving and can help families and in-home care aides provide seniors with the best possible care.
Seniors Looking to Avoid Costly One-Time Fees
QMedic does not charge any one-time startup fees. There are no hidden activation, device, or installation fees. And, shipping is included for all customers, even those who choose the monthly payment plan. QMedic also offers several extra features, such as activity and compliance monitoring, free of cost for users. QMedic only charges customers for monthly monitoring service, keeping things simple and affordable.
Plans and Starting Costs
QMedic maintains a simple, straightforward pricing structure. All devices may be paid for on a monthly or annual basis. The annual plans offering savings of $140 per year for the mobile device and $60 per year for the in-home device.
QMedic offers a 30-day trial period during which all customers may return their device for a full refund. After the 30-day period, refunds are not available, though users will not be charged for cancellation.
Starting Costs
QMedic does not charge any start up fees. The only thing customers are ever billed for is their monthly monitoring service.
Device Prices and Features
Cellular
Device Features
The Cellular model is currently QMedic's only available in-home system. Rather than relying on a landline, this system comes equipped with a cellular connection, making it ideal for seniors who want in-home protection but do not have a landline in their home. The Cellular model features a base station has a 24-hour backup battery and a range of 800-1,000 feet, depending on the configuration of one's home. The included wearable help button is waterproof and shower-safe and may be worn as a pendant or wristband. Fall detection is not available with this device, or any QMedic devices.
Pricing
Cellular costs $30 a month when paid for month-to-month, or $300 for the year with an annual payment. Users may add a second user who lives in the same home to their plan for an additional $10 a month.
Mobile GPS
Device Features
Mobile GPS is a portable device designed for active seniors who often spend time outside of the home unsupervised. It is an all-in-one device that users wear as a neck pendant. It is water resistant so it can get wet in the rain, but it is not designed for in-shower use. The battery lasts up to 14 days between charges.
Pricing
This mobile device costs $45 a month when paid for monthly, or $400 for the year, bringing the monthly cost down to $33.33 a month.
| | | |
| --- | --- | --- |
| | Cellular | Mobile GPS |
| Monthly Cost | $30.00 | $45.00 |
| One-time Fees | N/A | N/A |
| Type of Device | In-home | Mobile |
| Connection | Cellular | Cellular |
| Battery Life | 24-hour backup | 14 days |
| Water Resistant | Yes | Yes |
| Shower-proof | Yes | No |
| Range | 800-1,000 feet | N/A |
| Fall Detection | Not available | Not available |
Optional Devices
All QMedic devices include compliance tracking and activity tracking free of charge, and free access to the caregiver dashboard. QMedic does not offer any additional add-on devices or features at this time.
Monitoring
QMedic works with a U.S.-based monitoring service to provide emergency support for all of its devices. The monitoring service has call centers in Utah and Idaho. According to QMedic's website, it takes an average of 30 seconds for operators to answer an emergency call.